GUYTON ASH
Respected within the company and industry as a 'carpenter's carpenter,' Guyton has an innate affinity for materials and master craftsmanship. A native of Connecticut, he remembers an 'aha!' moment as a teenager working for a building salvage company, when he cleared away layers of dirt and debris in an old barn to discover beautiful 16 inch-wide, quarter-sawn white oak planks. He became further interested in working with his hands by observing his friend's father who was a skilled cabinet and furniture maker.
Guyton began his career in the building arts as a stonemason, specializing in creating fieldstone walls and courtyards in New England. After moving to South Carolina, he enrolled at the American College of the Building Arts, where his interests expanded to working with wood, with a major in timber framing. When not overseeing the craftsmanship of the Artis team or teaching at the college, Guyton can be found in the workshop making furniture.
Graduate of American College of the Building Arts
Major: Timber Framing
Tim sites
Tim is one of the lucky ones. After a 20-year Washington, DC career in corporate marketing, Tim hung up his Hugo Boss suits to pursue his real passion: building. He'd long been remodeling houses on the side, but after his renovation of a dilapidated farmhouse in Virginia's Blue Ridge Mountains generated a bidding war, his second career took off. Others began tapping his creativity and aesthetic eye to realize their dreams.
From historic log cabins to 5,000-square-foot custom homes, Tim's construction experience is broad, and his eye for buildings with unrealized potential is spot-on. Like his adopted hometown, Tim reveres historic buildings, and this is the basis of Artis. As the company's co-founder and head of client relationships and business development, Tim has created an ideal home where his communication skills, gregarious nature and his love for building all can thrive.
Graduate of St. John's University
Major: English Literature & Philosophy
Inspired by his dad, a custom home builder, AJ followed suit by attending the American College of the Building Arts. AJ is a serious Grateful Dead fan – as such is required to wear headphones.

Thomas honed his craft as a timber framer at the American College of the Building Arts. He's an avid outdoorsman, with a fondness for any sport involving water.
The son of a Coast Guard man, Steve had toured the world before putting down roots in North Carolina, where he built his own custom-home construction business. To special friends, Steve will slip a package of his Teriyaki jerky, quite simply the best ever.
To our amazement, William seems to love budgets...and making sure clients feel the same. Speaking of low numbers, his handicap on the golf course has been in the single digits for years.
Gene traded in his job selling used cars to join the team at Artis. A skateboarding enthusiast, Gene loves a challenge, whether from a half-pipe or us. He shares digs with his white lab, Bubba.
Brooks recently folded his own construction company under the Artis tent...a big win for the team. Inseparable from his dog, Hank, the two are often spotted riding together, noses to the wind.
Has spent more than thirty years in the trade; although a transplanted Yankee, Chris has discovered he has a Southern soul. He loves his new home here, and is likely to be out hiking or riding his motorcycle in his free time.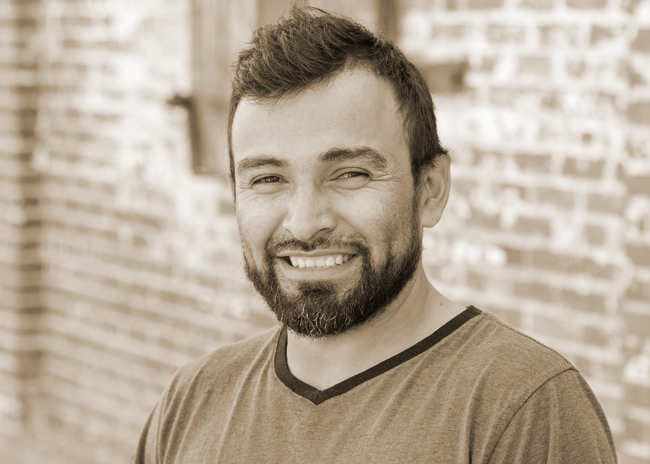 A single Dad, Jeronimo is known for his work ethic and for his devotion to his family both here and back home. On a good weekend, he will manage to sneak in, what he claims is, a friendly game of soccer.
A proud graduate of the American College of the Building Arts, Chris' idea of relaxing is to fix stuff, mainly small engines and boats. In fact, if not at his workshop, you'll find him on a boat, with his chocolate lab, Bonita.

Nick is a full-time fireman with a passion for carpentry; for fun, Nick can be found cruising on his Harley. He recently took the plunge and got married. Life is good.
Admits his interest in construction stems from watching hundreds of episodes of Bob Vila's home improvement show. Good training; Joe's now our Jack of all trades. He's also the lead singer for his band Lectra Lust, but that's a different story.
A native Frenchman, Arnaud has spent 18 years in the trade and is a professor at the American College of the Building Arts. He promises his new son will grow up trilingual, speaking French, Spanish and English.
Once a published illustrator, Matt made a startling career switch when he showed up at the American College of Building Arts to study wood working. He is said to first have gotten approval from dogs Hank and Yoshi, who, he concedes, run things.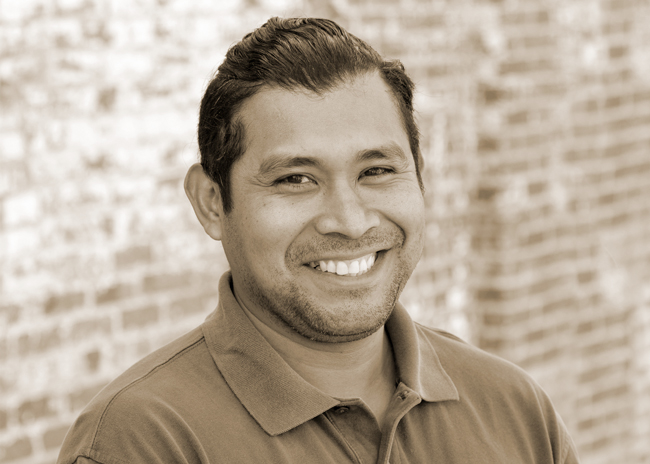 Julio is another enthusiastic dog lover on a staff filled with them. He's worked in the trade for more than 12 years, and in his off hours, if he's not fishing, he usually can be found playing with dogs Milo and Candy.
Grew a beard during four months at the South Pole Research Station; Jackson is now attending the American College of the Building Arts with a specialty in timber framing, still proudly sporting that beard.